The strategy builds on investments made by the Government since 2015 that support children, seniors, lower-wage workers and other vulnerable Canadians, which include: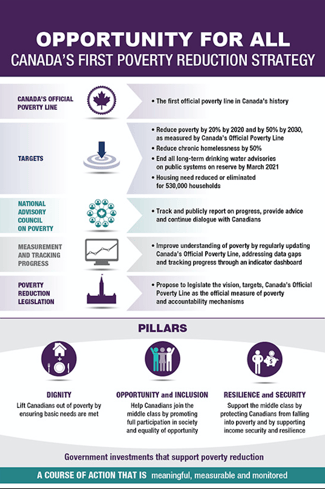 Opportunity For All's extensive community engagement process elicited three major themes, which now form the three pillars of the Strategy:
Dignity: Lifting Canadians out of poverty by ensuring basic needs – such as safe and affordable housing, healthy food, and healthcare – are met;
Opportunity and Inclusion: Helping Canadians join the middle class by promoting full participation in society and equality of opportunity;
Resilience and Security: Supporting the middle class by protecting Canadians from falling into poverty and by supporting income security and resilience.
The Government of Canada's defines poverty as "the condition of a person who is deprived of the resources, means, choices and power necessary to acquire and maintain a basic level of living standards and to facilitate integration and participation in society."
Opportunity For All introduces a national and official measure of income poverty: Canada's Official Poverty Line, which will be created based on updates to the current Market Basket Measure (MBM). It will be calculated based on the costs of a basket of goods and services (including shelter, transportation, food, and clothing) that individuals and families require to meet their basic needs and achieve a modest standard of living. Thresholds will be developed for 50 regions across Canada, including 19 communities and the three territories, and will be updated annually to account for inflation.
Using a baseline year of 2015, this measure will track progress toward two major targets, as aligned with the United Nations Sustainable Development Goals:
Reduce the poverty rate by 20% by 2020; and
Reduce the poverty rate by 50% by 2030.
To roll out the strategy, the Government of Canada plans to work closely with partners across all parts of society, including provinces, territories, Indigenous peoples, communities, academics, the private sector, and people with lived experience, in order to coordinate efforts, address mutual priorities, and share data and best practices.
Moving forward, the Government of Canada plans to establish an independent National Advisory Council on Poverty, which will continue the national dialogue with Canadians on poverty, provide advice to the Minister of Families, Children and Social Development, and track and report on progress. The Government will also introduce legislation (expected in fall 2018) to entrench Canada's Official Poverty Line, its targets, and the National Advisory Council on Poverty into law.
Stay tuned for upcoming learning opportunities, resources, and blogs related to Opportunity for All – Canada's First Poverty Reduction Strategy, on the Tamarack website.
_____________________
Take Your Learning Further:
Opportunity for All – Canada's First Poverty Reduction Strategy
Reflections and Responses
Other Resources and Media: